*BBA. LL. B (Hons.) 5 Year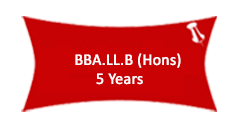 Our BBA. LL. B (Hons.) 5 Year allows students to develop determination, commitment, intellect and stamina. It enables students to analyse both sides of complex problems and to come up with an effective and unbiased solution. Business knowledge is another very important component of law studies.
Highlights
An academic curriculum infused with law and justice themes.
Extracurricular clubs and programs.
Weekly brainstorming sessions.
Opportunities to interact with legal professionals.
Exposure to professional world.