LL. B (Hons.) 3 year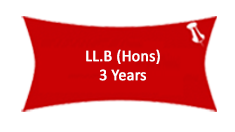 Law degrees prepare students to looks into the system of rules and regulations that are usually enforced through a set of institutions. Law works as a major social mediator between people. Our LL.B (Hons) equips students with advanced communication skills and keen problem-solving abilities. Students develop superior language skills and self-discipline, as considerable workload needs to be managed during the studies.
Highlights
An academic curriculum infused with law and justice themes.
Extracurricular clubs and programs.
Weekly brainstorming sessions.
Opportunities to interact with legal professionals.
Exposure to professional world.